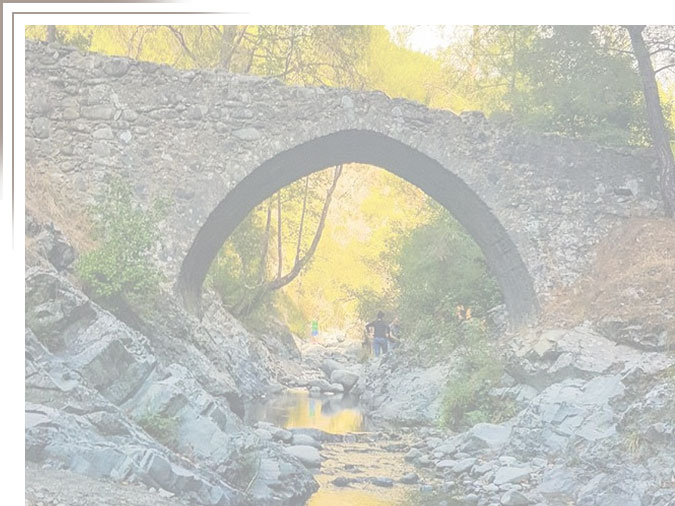 Explore Troodos
The chalet is situated in the picturesque location of Moniatis, near the village of Saittas, at the very foot of the Troodos mountain range, at an altitude of 650 meters above sea level and 35 km from Limassol.
The height of the mountain range reaches 1952 meters, which causes a special, distinctive from the coast, climate. In the summer the mountains are cooler, in the winter more precipitation occurs. At the top of Mount Olympus, the highest point of the Troodos mountain range, almost the entire winter season is preserved snow cover. These conditions provide rich vegetation and the animal world.
In the mountains, more than a hundred different species of plants grow, with the dominant ones being pine and cedar, which provide crisply clean air and coniferous scent.
The mountains of Troodos are rich in their cultural heritage and are interesting for tourist travel. Just a few kilometres away are the famous ancient monasteries and churches, some of which are listed in the UNESCO World Heritage List. The most beautiful natural waterfalls are located nearby: Caledonia and Mellomeris, hiking routes are held to the bottom. Agriculture is well developed in the area, and you can buy farm products, seasonal fruits and vegetables, grapes, nuts, honey, traditional sweets, wine, oil and animal products in local markets. Cosy mountain taverns offer the freshest local products in their menu - trout, lamb, various traditional dishes at very reasonable prices.
The Troodos Mountains are interesting to explore at any time of the year. Here is just a small list of things to do in this region.

- study of cultural heritage: monasteries, churches
- hiking mountain trails
- Bird watching, animal watching
- visiting local villages and getting acquainted with handicraft products
- winter sports: Skiing and snowboarding at Ski Cyprus resort (December-March in the winter season)
- cycling
- alpinism
- picnics in specially equipped places
- visiting traditional taverns
- visiting wineries and wine testing
- jeep and quad bike safari
- traditional festivals
The images provided on the website are for reference only. The company reserves the right to make changes to plans and specifications without prior notice.